Texas is a state of the United States, which is featured in the 18 Wheels of Steel series.
The state is bordered by Oklahoma to the north, the Mexican states of Chihuahua, Coahuila de Zaragoza, Nuevo León and Tamaulipas to the south, New Mexico to the west and Arkansas and Louisiana to the east. It's currently unknown when this state will be featured in American Truck Simulator.
SCS Software CEO Pavel said: "The state of Texas will obviously take a lot of time and effort for SCS due to the large scale of it".
Release History.
Edit
9 October 2019: Pavel estimates that at least a team of 20-25 will be required to do Texas and commented it would be released as one DLC and not parceled in sections.
Currently, 10 cities in Texas are probable to be included. The capital is marked in
bold
.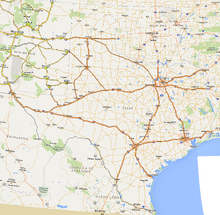 Connections
Edit
Interstates
Edit
The shields for these 5 interstates in Texas have been found in the game files.
Other Interstate highways can be found in the usa.dds file but not yet in the game files:
US Highways
Edit
The shields for three US Routes are currently in the game files:
State Highways
Edit
None Confirmed but we can tell from the usa.dds file:
See Also
Edit
Community content is available under
CC-BY-SA
unless otherwise noted.