Texas is a state of the United States, which is featured in the 18 Wheels of Steel series.
The state is bordered by Oklahoma to the north, the Mexican states Chihuahua, Coahuila de Zaragoza, Nuevo León and Tamaulipas to the south, New Mexico to the west and Arkansas and Louisiana to the east.
The state has been indirectly mentioned by SCS Software CEO Pavel on the Idaho release stream.
SCS Software CEO Pavel said: "The state of Texas will obviously take a lot of time and effort for SCS due to the large scale of it".
Release History
Edit
9 October 2019: Pavel estimates that at least a team of 20-25 will be required to do Texas and commented it would be released as one DLC and not parceled in sections.
26 February 2020: 1.37 Open Beta added in def.scs references to dlc_texas.[1]
16 July 2020: During a video stream showing Idaho's release, Pavel hints one of the states in progress as "big" and "huge". Comments after the statement indicate that most spectators believe Texas is the state in concern.[2]
Visible on Road Signs
Edit
Two cities in Texas can be seen on road signs in the New Mexico DLC: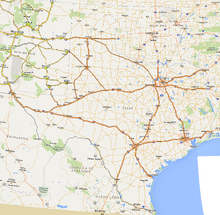 Connections
Edit
Interstates
Edit
The shields for these 5 interstates in Texas have been found in the game files.
Other Interstate highways can be found in the usa.dds file but not yet in the game files:
US Highways
Edit
The shields for nine US Routes are currently in the game files:
State Highways
Edit
None Confirmed but we can tell from the usa.dds file:
References
Edit
↑ SCS Software, SCS Forum, 2020-02-26 (accessed 2020-05-08)
↑ SCS Software, Twitch, 2020-07-16 (accessed 2020-07-16)
See also
Edit
Community content is available under
CC-BY-SA
unless otherwise noted.