SCS Software is a Czech video game development company. It primarily produces simulation games for Microsoft Windows, macOS, and Linux, including the 18 Wheels of Steel and Euro Truck Simulator series.
List of releases
Edit
(from oldest to newest)
Rocky Mountain Trophy Hunter 3
Shark! Hunting the Great White
Hunting Unlimited
Hunting Unlimited 2
Hunting Unlimited 3
OceanDive - Ocean Diving Adventure
Hunting Unlimited 4
Bus Driver
Deer Drive
Hunting Unlimited 2008
Hunting Unlimited 2009
Hunting Unlimited 2010
About the Company
Edit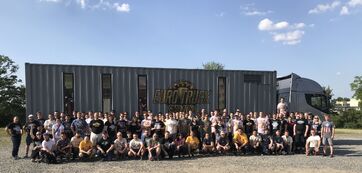 SCS Software is a privately owned company. It is located in Prague, Czech Republic and was founded in 1997. It has focused on creating 3D engine technology such as that of the Prism3D engine. It also offers game development services to third-party companies as a developer and contractor. The company has been doing that since 1999.
Key People
Edit
Pavel Šebor - Managing Director/Chief Executive Officer; "biz, relations, licensing"
Martin Cesky - Chief Operations Officier
Petr Sebor - Chief Technology Officer
Daniel 'Nemiro' Němec - Community Manager
Josef "Carthoo" Stehlik - Community Manager
Alex Blackman - Community Manager
Press Kit Images
Edit
See also
Edit
Community content is available under
CC-BY-SA
unless otherwise noted.