ProMods is a map expansion mod for the game Euro Truck Simulator 2. Its intent is to improve the base map of the game by expanding it and rebuilding older parts with high-quality textures.
This mod can be considered as one of the biggest maps for the game as the team, consisting of more than 30 developers, has already added 19 new countries and more than 250 cities were modelized or retouched.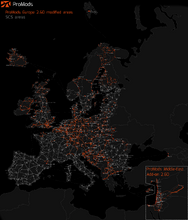 ProMods was founded by ScuL and Nico on 15 December 2012, only a couple months after the original release of the game. Shortly after, they introduced it on the SCS forum on 20 December 2012 and then, started a Facebook page on 6 January 2013.  
The first version, known as v1.0, was published in August of the same year and came with the first Scandinavian cities before the Scandinavia DLC released. 
The next major version (v2.0), came more than 2 years after the start of the project, on 25 December 2015. In the meantime, ProMods got many new developers and expanded to build the entirety of Europe. 
For Euro Truck Simulator 2, the ProMods team not only adding new countries, but they also rebuild the already existing map. However, since 1 April 2019, the ProMods team have been working on a project called ProMods Canada, a map mod that will access British Columbia, Canada for the game American Truck Simulator.[1][2] It was announced on 19 April 2019[3] and the first version is expected to be released around 2020.[4][5]
Note: Cities in bold are the capitals of their respecting country.
Åland
Cities Added
Geta
Godby
Mariehamn
Albania
Cities Added
Elbasan
Andorra
Cities Added
Andorra la Vella
Belgium
Cities Added
Cities Reworked
Antwerp
Brussels
Bosnia and Herzegovina
Cities Added
Бања Лука (Banja Luka)
Добој (Doboj)
Мостар (Mostar)
Bulgaria
Cities Added
Благоевград (Blagoevgrad)
Монтана (Montana)
Видин (Vidin)
Croatia
Cities Added
Dubrovnik
Osijek
Ploče
Pula
Rijeka
Senj
Šibenik
Slavonski Brod
Split
Virovitica
Zadar
Zagreb
Cyprus
Cities Added
Λάρνακα (Larnaca)
Λευκωσία (Nicosia)
Λεμεσός (Limmasol)
Πάφος (Paphos)
Czech Republic
Cities Added
Cities Reworked
Jihlava
Praha
Mladá Boleslav
Olomouc
Estonia
Cities Added
Kuressaare
Faroe Islands
Cities Added
Klaksvík
Tórshavn
Finland
Cities Added
Alajärvi
Hämeenlinna
Ivalo
Joensuu
Jyväskylä
Kärsämäki
Kemi
Kemijärvi
Kittilä
Kokkola
Kristiinankaupunki
Kuopio
Mikkeli
Muonio
Napapiiri
Oulu
Porvoo
Rovaniemi
Sodankylä
Tornio
Utsjoki
Vaasa
Vantaa
Varkaus
Viitasaari
France
Cities Added
Cities Reworked
Bayonne
Calais
Cherbourg-en-Cotentin
Lyon
Narbonne
Metz
Orléans
Reims
Pau
Perpignan
Georgia
Cities Added
ბათუმი (Batumi)
ფოთი (Poti)
Greece
Cities Added
Αλεξανδρούπολη (Alexandroupoli)
Καβάλα (Kavala)
Ηγουμενίτσα (Igoumenitsa)
Iωάννινα (Ioannina)
Πτολεμαΐδα (Ptolemaida)
Σέρρες (Serres)
Θεσσαλονίκη (Thessaloniki)
Hungary
Cities Added
Cities Reworked
Győr
Szeged
Sümeg
Debrecen
Szombathely
Vásárosnamémy
Iceland
Cities Added
Akranes
Akureyri
Blönduós
Bolungarvík
Borgarnes
Höfn
Hólmavík
Ísafjörður
Keflavík Airport
Krafla Volcano
Reyðarfjörður
Reykjavik
Selfoss
Seyðisfjörður
Þorlákshöfn
Vestmannaeyjar
Vík
Ireland
Cities Added
Dublin
Galway
Limerick
Sligo
Wexford
Italy
Cities Added
Cities Reworked
Trieste
Milano
Jersey
Cities Added
Saint Helier
Trinity
Latvia
Cities Added
Cities Reworked
Balvi
Rēzekne
Gulbene
Jēkabpils
Kolka
Ogre
Saldus
Tukums
Valka
Liechtenstein
Cities Added
Vaduz
Lithuania
Cities Added
Tauragė
Ukmergė
Man (Isle of)
Cities Added
Douglas
Ramsey
Moldova
Cities Added
Bălți
Chişinǎu
Montenegro
Cities Added
Bar
Netherlands (The)
Cities Added
Cities Reworked
Arnhem
Rotterdam
Eindhoven
Moerdijk
Zwolle
North Macedonia
Cities Added
Битола (Bitola)
Охрид (Ohrid)
Прилеп (Prilep)
Скопје (Skopje)
Штип (Štip)
Norway
Cities Added
Dombås
Drammen
Hamar
Hammerfest
Honningsvåg
Kirkenes
Lillehammer
Oppdal
Orkanger
Otta
Tana Bru
Trondheim
Poland
Cities Added
Cities Reworked
Augustów
Łódź
Bielsko-Biała
Lublin
Bydgoszcz
Szczecin
Chełm
Warszawa
Cieszyn
Wrocław
Elbląg
Ełk
Gdynia
Gorzów Wielkopolski
Grudziądz
Kielce
Koszalin
Krasnystaw
Krosno
Nowogard
Opole
Ostrołęka
Ostrów Mazowiecka
Piła
Piotrków Trybunalski
Płock
Przemyśl
Radom
Rzeszów
Sanok
Siedlce
Suwałki
Świnoujście
Zamość
Zgorzelec
Romania
Cities Added
Satu Mare
Russia
Cities Added
Гусев (Gusev)
Кандалакша (Kandalaksha)
Мурманск (Murmansk)
Никель (Nikel)
Верхнетуломский (Verkhnetulomsky)
Зеленоградск (Zelenogradsk)
Serbia
Cities Added
Београд (Belgrade)
Крагујевац (Kragujevac)
Лесковац (Leskovac)
Ниш (Niš)
Нови Сад (Novi Sad)
Панчево (Pančevo)
Суботица (Subotica)
Врање (Vranje)
Зрењанин (Zrenjanin)
Slovakia
Cities Added
Cities Reworked
Trnava
Košice
Slovenia
Cities Added
Koper
Ljubljana
Maribor
Spain
Cities Added
Barcelona
Bilbao
Ciudad Real
Donostia (San Sebastián)
Huesca
Irun
Jaca
La Jonquera
Lleida
Manresa
Pamplona
Soria
Teruel
Valencia
Vinaròs
Zaragoza
Svalbard
Cities Added
Grumantbyen
Hiorthhamn
Longyearbyen
Sweden
Cities Added
Cities Reworked
Åre
Linköping
Gävle
Södertälje
Haparanda
Stockholm
Kalix
Karesuando
Karlstad
Kristianstad
Ljugarn
Luleå
Skellefteå
Sundsvall
Söderhamn
Örnsköldsvik
Östersund
Umeå
Visby
Ystad
Switzerland
Cities Added
Cities Reworked
Basel
Bern
Ukraine
Cities Added
Ковель (Kovel)
Луцьк (Lutsk)
Львів (Lviv)
Мукачево (Mukachevo)
Нововолинськ (Novovolynsk)
Полианитсиа (Polyanytsya)
Стрий (Stryi)
Ужгород (Uzhhorod)
United Kingdom
Cities Added
Cities Reworked
Aberystwyth
Aberdeen
Balivanich
Cambridge
Birsay
Dover
Belfast
London
Broadford
Plymouth
Cairnryan
Canterbury
Chelmsford
Croydon
Dumfries
Evie
Exeter
Felixstowe
Fishguard
Folkestone
Fort William
Fraserburgh
Hawes
Heysham
Holyhead
Hull
Inverness
Kirkwall
Larne
Lisburn
Lochboisdale
Londonderry
Norwich
Oban
Perth
Porthmadog
Portree
Portsmouth
Stornoway
Stranraer
Tarbert
Ullapool
Wick
Villages can be driven through but don't appear on the map. They often lack any company.
Bosnia and Herzegovina
Градишка (Gradiška)
Модрича (Modriča)
Шамац (Šamac)
Bulgaria
Borovan
Byala
Dimovo
Dolni Dabnik
Croatia
Daruvar
Lipik
Slavonski Šamac
Veliki Zdenci
France
Ax-les-Thermes
Bréhal
Dax
L'Hospitalet-près-l'Andorre
Le Mont-Saint-Michel
Pontorson
Port-Vendres
Saint-Girons
Saint-Lizier
Saint-Sauveur-le-Vicomte
Tarascon-sur-Ariège
Romania
Jimbolia
Serbia
Српска Црња (Srpska Crnja)
Житиште (Žitište)
United Kingdom
Keith
Since July 25th 2019, ProMods has offered an optional Middle East add-on separately due to political issues there. It isn't included in the main ProMods package.
Egypt
Cities Added
Damietta
El-Arish
Port-Said
Israel
Cities Added
Acre
Afula
Ashdod
Ashkelon
Be'er Sheeva
Bet She'an
Dimona
Eilat
Ein Gedi
Hadera
Haifa
Herzliya
Jerusalem
Kiryat Shmona
Mitzpe Ramon
Nahariyya
Nazareth
Netanya
Rishon ZeLion
Tel-Aviv
Tiberias
Iraq
Cities Added
Ar-Rutbah
Jordan
Cities Added
Amman
Aqaba
Irbid
Madaba
Mafraq
Ruwaished
Safawi
Zarka
Lebanon
Cities Added
Beirut
Byblos
Nabatieh
Sidon
Tripoli
Tyros
Zahle
Saudi Arabia
Cities Added
Haql
Syria
Cities Added
Damascus
Deraa
Izra
Latakia
Tartous
Turkey
Cities Added
Antakya
İskenderun
West Bank
Cities Added
Jericho
Ramallah
December 2012 - ProMods founded
August 2013 - Scandinavia v1.00
Late August 2013 - Scandinavia v1.01
December 2013 - ProMods v1.50
January 2014 - ProMods v1.52
March 26th 2014 - ProMods v1.60
March 30th 2014 - ProMods v1.61
August 15th 2014 - ProMods v1.70
August 19th 2014 - ProMods v1.71
October 26th 2014 - ProMods v1.72
November 2014 - ProMods v1.80
March 15th 2015 - ProMods v1.90
December 25th 2015 - ProMods v2.00
February 19th 2016 - ProMods v2.01
April 20th 2016 - ProMods v2.02
June 22nd 2016 - ProMods v2.03
August 9th 2016 - ProMods v2.10
September 10th 2016 - ProMods v2.11
December 12th 2016 - ProMods v2.12
December 23rd 2016 - ProMods v2.15
April 12th 2017 - ProMods v2.16
June 19th 2017 - ProMods v2.17
August 18th 2017 - ProMods v2.18
September 5th 2017 - ProMods v2.20
December 4th 2017 - ProMods v2.25
February 14th 2018 - ProMods v2.26
May 20th 2018 - ProMods v2.27
August 29th 2018 - ProMods v2.30
October 14th 2018 - ProMods v2.31
November 29th 2018 - ProMods v2.32
February 17th 2019 - ProMods v2.33
April 23rd 2019 - ProMods v2.40
July 4th 2019 - ProMods v2.41
October 16th 2019 - ProMods v2.42
December 11th 2019 - ProMods v2.43
April 9th 2020 - ProMods v2.45
May 20th 2020 - ProMods v2.46
August 26th 2020 - ProMods v2.50
November 9th 2020 - ProMods v2.51
Community content is available under
CC-BY-SA
unless otherwise noted.