Operation Big Sur was a World of Trucks event for American Truck Simulator that started on June 25, 2018 and ended on July 15, 2018 at 23:59 UTC. The community goal was reached on July 10, 2018. The road was reopened on July 16, 2018 with a game update.
In order to complete the requirements for the event, one had to deliver 15 cargos of materials and equipment to or from the
Mud Creek Slide
work sites on California's
SR 1
in order to repair the Big Sur Landslide.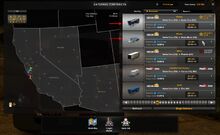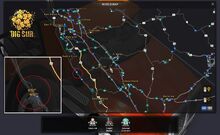 The event was completed once the World of Trucks community has delivered at least 500,000 deliveries (on July 10, 2018). Deliveries were still counted after one has delivered the minimum requirement.
After one finished their 15 deliveries, they received a plush excavator cabin toy and a "Juggernaut" paint job.
There was also an "Operation Big Sur" paint job that was released after the 500,000 deliveries goal was met. Truckers had to finish at least 5 deliveries to claim the second reward.
Points of Interest
Edit
Multiple deliveries between the same city all counted.  (Technically, that means the fastest way of completing the event was to make repeated trips between the work sites and Santa Cruz proper.)
The two work sites were connected by a rough road, presumably to reduce inconvenience should a trucker enters the wrong work site for delivery.  This meant the CA 1 was technically open all the way to truckers.
"Job Market" jobs to / from the work sites did not count.
External Links
Edit
Community content is available under
CC-BY-SA
unless otherwise noted.