The Route Nationale 118 (signed as
) is an expressway in France near Paris.
Euro Truck Simulator 2 started to feature the road in the revamp of Paris area at version 1.26, prior to the release of Vive la France! map expansion. The road serves partially as the access to the town Poissy from the south.
Along with
and
, as well as
N230
near
Bordeaux
, this road is one of the few
Routes Nationale
to have its number displayed on an in-game sign, albeit the sign is not on the road itself – the number plate is on the southwestern end signpost of
. Other signs directing vehicles to this road show the number
instead.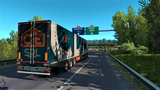 At version 1.32, SCS updated French roads in ETS 2, in that speed limits signs denoting a 90 km/h (56 mph) limit are changed to 80 km/h (50 mph) ones[1]. There's a sign affected by this change a short distance before the southbound carriageway of this road, but no new sign to cancel this designation exists. As a result, this road has different speed limits for the two directions, i.e. 90 km/h (56 mph) for northbound, and 80 km/h (50 mph) for southbound.
Route Details
Edit
Route Nationale 118
↓km↓
↑km↑
Feature
Destinations / Notes
continues to the west
0
19
Northern terminus
19
0
Southern terminus
East: towards Lyon (via )
continues to the south
References
Edit
See Also
Edit
Community content is available under
CC-BY-SA
unless otherwise noted.