Interstate 25 (I-25) is a north–south Interstate Highway in central New Mexico and Colorado and eastern Wyoming in American Truck Simulator. It runs from Interstate 10 in Las Cruces to Interstate 90 and US 87 in Buffalo, a distance of 1062 miles.
Course
[
]
Interstate 25 begins at its junction with Interstate 10 to the south of Las Cruces. The highway leaves Las Cruces after intersecting with US 70, and after passing a northbound Border Patrol station, it sets off up the arid Rio Grande Rift. North of north and southbound rest areas, the highway intersects with US 380 at its western terminus, and soon after passes through Socorro, where it meets US 60. The highway then crosses the Rio Grande and enters Albuquerque near Albuquerque International Sunport, runs to the east of downtown, and intersects with Interstate 40 at the Big I. With the Sandias to the east, the highway meets US 550 and curves eastward; here the commuter Rail Runner line begins running down the median of the highway. After a junction with NM 599, I-25 passes to the south of the state capital of Santa Fe, where US 84 begins running concurrent with the highway. Here the 25 curves south over Glorieta Pass, where the highway skirts the southern edge of the Sangre de Cristo Mountains, and soon afterward curves again to resume its northward route, where US 84 breaks from the highway. I-25 runs along the edge of the Great Plains with the Sangre de Cristos to the west, offering north and southbound rest areas. Travel services are provided where US 64 meets the highway, and shortly afterward Raton is reached. It's worth noting that, between Santa Fe and Trinidad, the highway follows the general course of the Santa Fe Trail, a mid-19th century wagon trail that connected a developing United States to Mexico (later New Mexico Territory).
Out of Raton the highway traverses Raton Pass, which, in its crossing of the Park Plateau, reaches the highway's highest point at 7834 feet. After a southbound weigh station, the highway enters Colorado, where, below Fishers Peak to the east, it passes a northbound weigh station and descends back into the Great Plains at Trinidad. From there to Walsenburg a concurrency is run with US 160, and after passing Stem Beach, in the shade of the Wet Mountains (a subrange of the Sangre de Cristos), the highway enters Pueblo, where it crosses paths with US 50 and the Arkansas River. The highway then rises to Colorado Springs, under the backdrop of the majestic Pikes Peak Massif, and, after intersecting with US 285 at its northern terminus, enters Denver. After passing to the west of downtown Denver, the highway intersects with Interstate 70 at the Mousetrap, and shortly thereafter with Interstate 76. Running along the edge of the Front Range, the highway soon reaches Loveland and US 34. After north and southbound weigh stations, the highway intersects with CO 14 to the east of Fort Collins and continues into Wyoming.
Upon crossing the state line, rest areas are offered at the Southeast Wyoming Welcome Center and port of entry weigh station. The highway then passes through Cheyenne, the state capital and largest city, where it intersects with Interstate 80. Out of Cheyenne, the highway sets off across the butte-studded High Plains, running parallel to the Laramie Mountains to the west; along this segment, a truck stop is offered at Chugwater, and additional services are available at Dwyer Junction (where US 26 joins the highway from Nebraska) and Orin (where US 20 also begins running concurrent with I-25, having also come from Nebraska). At Douglas, WY 59 intersects with the highway at its southern terminus, offering a direct route to Gillette, while the 25, having crossed the North Platte River, turns west. The 25 runs along the North Platte to Casper, where US 20 and 26 break away to the west and the freeway, having crossed the North Platte again, resumes its northward route. The 25 continues across the rugged plains past Kaycee (which features services) to Buffalo, where the highway terminates at its junction with Interstate 90.
Cities
[
]
New Mexico
[
]
Colorado
[
]
Wyoming
[
]
Exit list
[
]
New Mexico
[
]
Colorado
[
]
Location
mi
km
Exit
Destinations
Facilities
Notes
485
780
11
Starkville
Trinidad
505
812
13
SR-12 West / US 160 East – Main St
South end of US 160 concurrency
Walsenburg
545
877
50
SR-10 East / US 160 West – Walsenburg, Alamosa
North end of US 160 concurrency

575
925
91
Stem Beach
Exit to Vitas Power Company
Pueblo
580
933
97
Central Ave to Northern Ave
Exit to Deepgrove - Avalanche Steel
588
946
100
US 50 East – La Junta
South end of US 50 concurrency
590
949
101
SR-47 East / US 50 West – Poncha Springs
North end of US 50 concurrency
595
957
104
Drew Dix Parkway
Colorado Springs
635
1021
139
US 24 – Limon
South end US 24 concurrency
640
1029
141
US 24 – Cimarron St
North end US 24 concurrency
645
1038
145
Fillmore St
Denver
690
1110
201
US 285 south / SR-30 east – Hampden Ave
710
1142
213
Park Ave West, 38th Ave
Exit inaccessible
715
1150
214 A
I-70 – Limon, Grand Jct
Southbound exit 214, I-70 exit 274
720
1158
216 A-B
I-76 – Sterling, Grand Jct
I-76 exit 5 A–B
Loveland
755
1215
257
US 34 - Greeley, Sterling
770
1239
---
Weigh Station
Fort Collins
775
1247
269 A-B

SR-14

– Ault, Fort Collins
Inaccessible to the east, North terminus in Colorado DLC
Wyoming
[
]
Location
mi
km
Exit
Destinations
Facilities
Notes
804
1294
4
High Plains Road
810
1303
--
Port of Entry
820
1320
7
I-25 BL /

WYO 212

– College Drive
825
1327
8 B–D
I-80 / US 30 –

Sidney

, Rock Springs
I-80 exit 359 A–C
Cheyenne
835
1343
10 D

WYO 210

– Happy Jack Rd, Missile Dr
Wheatland
865
1392
78
I-25 BL north / US 87 – Wheatland
North end US 87
I-25 BL is inaccessible
Dwyer Junction
885
1424
92
US 26 east – Guernsey, Torrington
South end US 26 concurrency
Orin
918
1477
126
US 18 east / US 20 east – Lusk
South end of concurrency with US 20, western terminus of US 18
Douglas
938
1509
140
WYO 59 north – Douglas, Gillette
Casper
968
1557
185

WYO 258

– Wyoming Blvd – Evansville
972
1564
188
WYO 220 west – Poplar St, Rawlins
974
1567
189
US 20 / US 26 – Shoshoni
North end of US 20 and US 26
Kaycee
1021
1643
254
Kaycee
1062
1709
300
I-90 – Gillette, Sheridan
Northern terminus of I-25, north end US 87 concurrency, I-90 exit 56 B
Business Routes
[
]

Cities
[
]
Interstate 25 has business routes in 5 cities:
New Mexico
[
]
Socorro
[
]
Business Loop 12 is a 18-mile business loop serving the city of Socorro. The loop begins at Exit 147 of I-25. US 60 intersects from the west, and the loop becomes concurrent with US 60 as the pair of highways continue to the north. The loop terminates at Exit 150 on I-25, and US 60 continues along the Interstate as it exits Socorro.
Major intersections and facilities
[
]
Raton
[
]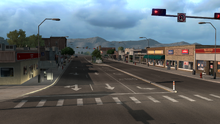 Business Loop 17 is a 10-mile business loop that begins at Exit 450 on I-25 south of Raton. The highway travels along Second Street north into the city. The loop continues north crossing over a rail line before turning northwest and terminating at Exit 454 on I-25.
Major intersections and facilities
[
]
Wyoming
[
]
Cheyenne
[
]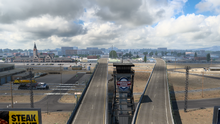 Interstate 25 Business and US 87 Business are business loops serving the city of Cheyenne. The highway begins at exit 7 of I-25 and US 87 and is routed along WYO 212 (College Drive) to US 85. Here, I-25 Bus. leaves WYO 212 and turns north onto US 85 and remains paired with it until its end. I-25 Bus. and US 85 enter Cheyenne from the south and intersect I-80 at Exit 362. At this point, the non-standard freeway of I-180 begins. The highway ends at I-180's north end and West Lincolnway (I-80 Bus. and US 30).
Major intersections and facilities
[
]
Douglas
[
]
Interstate 25 Business, US 20 Business, US 26 Business, and US 87 Business is a short business loop in Douglas. The highway begins at exit 140 of I-25, US 20, US 26, and US 87, and continues to the east until it reaches its eastern terminus with WYO 59 and WYO 94.
Major intersections and facilities
[
]
Casper
[
]
Interstate 25 Business is a business loop serving the city of Casper. The highway begins in downtown Casper at Center Street and follows US 20, US 26, and US 87 Bus. to the east. The highway slightly turns left to East Yellowstone Hwy (US 20, US 26, and US 87 Bus.) at the intersection with E 1st Street, and ends at its eastern terminus with I-25, US 20, US 26, and US 87.
Major intersections and facilities
[
]
History
[
]
See also
[
]