Interstate 19 is a short interstate highway in southern Arizona that is completely included in American Truck Simulator. It begins near the border with Mexico in Nogales and ends at Interstate 10 in Tucson.
Exit List
Edit
In update 1.35, the semi-directional T interchange with Interstate 10 in Tucson was partially rebuilt.
Interstate 19 is the only interstate highway in the United States to be signed in metric units. Metric units were added to the in-game Interstate 19 in update 1.5 with the following format: ¼ KM, ½ KM, 1 KM. In update 1.35, the signage along Interstate 19 was updated and the format changed: 500 m, 1 km.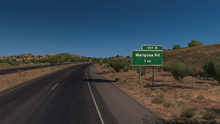 See also
Edit
Community content is available under
CC-BY-SA
unless otherwise noted.