Interstate 10 (I-10) is an east–west Interstate Highway in southern California, Arizona, and New Mexico in American Truck Simulator. It begins at Interstate 5 in Los Angeles and currently ends at Interstate 25 in Las Cruces, a few miles away from the border with Texas.
In real life, Interstate 10 runs from Los Angeles to Jacksonville, Florida. It is the southernmost east-west and the fourth-longest Interstate Highway in the United States, after Interstate 90, Interstate 80 and Interstate 40.
Course
[
]
Although I-10 in real life begins in Santa Monica, the freeway originating from this point in the game is not marked as such, and does not directly connect to I-10 proper. The highway in ATS begins in Los Angeles, at its junction with Interstate 5, and soon afterwards meets with Interstate 15 in the Inland Empire. The highway moves down the gentle San Gorgonio Pass, notable for the many wind turbines along the road, and passes to the north of the Imperial Valley, where CA 111 meets with the highway at Indio. The highway climbs into the Sonoran Desert via Chiriaco Summit, and proceeds through this sparse region past the towns of Desert Center and Blythe, the latter of which being the western end of a short concurrency with US 95.
After crossing the Colorado River, I-10 enters Arizona at the town of Ehrenberg, features an eastbound Weigh Station, and soon after passes through Quartzsite, where US 95 breaks off and heads south to Yuma. After continuing through the desert, the highway reaches Phoenix, where it intersects with Interstate 17 and US 60, and from there turns southeast to Tucson. Between the two cities, I-10 encounters the eastern terminus of Interstate 8, travel services at Sunland Gin Road, and Picacho Peak, a prominent landmark. Past Tucson the highway resumes its eastward trend through a region known as the Madrean Archipelago, where it meets with AZ 90 at Benson (Although it's not in the game, it is east of this point in real life where the highway reaches its highest point at Texas Summit). Apache Pass Road provides access to San Simon, and soon after passes through the town itself. After a westbound weigh station, the highway enters New Mexico.
Across the state line, I-10 passes Lordsburg, where US 70 joins the highway. From there it proceeds through the Chihuahuan Desert, where it crosses the Great Continental Divide. East of the divide, the highway meets Deming (which features services) and offers a westbound Rest Stop. In the western limits of Las Cruces, US 70 breaks from the highway, and soon after an eastbound rest area is provided. After crossing the Rio Grande, I-10 passes by Las Cruces proper, and currently ends at its junction with Interstate 25.
Cities
[
]
California
[
]
Arizona
[
]
New Mexico
[
]
Texas
[
]
Exit list
[
]
California
[
]
Arizona
[
]
Location
mi
km
Exit
Destinations
Fclt.
Notes
Ehrenberg
214
344
1
227
365
----
Weigh station
Eastbound only
Quartzsite
243
391
17
Truck Stop, US 95 South – Yuma
East end of US 95 concurrency
273
439
----
Bouse Wash Rest Stop
286
460
94
Tonopah
Inaccessible
314
505
124
Loop 303 North
Phoenix
337
542
141
35th Avenue
339
545
143
A-B
I-17 / SR 85 – to I-8, Flagstaff
I-17 exit 200
346
556
145
7th Avenue
Westbound exit and eastbound entrance
Inaccessible
350
563
146
7th Street
Eastbound exit and westbound entrance
Inaccessible
352
566
147/
148
US 60 East / SR 51 North – Piestewa Freeway, Globe
Eastbound exit 147; westbound exit 148
361
580
149
Buckeye Road, Sky Harbor
385
619
199
I-8 West – San Diego
I-8 exits 178 A–B
395
635
200
Sunland Gin Road, Arizona City
Tucson
443
712
255
SR 77 North – Globe
453
729
258
Congress Street, Downtown
460
740
260
I-19 South – Nogales
466
749
261
6th Avenue, Downtown
478
769
267
Valencia Road
504
811
302
SR 90 East – Fort Huachuca, Sierra Vista
535
860
337
Apache Pass Road
San Simon
574
923
378
I-10 BL East – San Simon
584
939
382
I-10 BL West – San Simon
590
949
----
Weigh station
Westbound only
New Mexico
[
]
Location
mi
km
Exit
Destinations
Fclt.
Notes
Lordsburg
613
986
22
US 70 West – Lordsburg, Clifton
East terminus in Arizona DLC
West end of US 70 concurrency
623
1,002
----
Weigh station
Eastbound only
Deming
659
1,060
68

NM 418

East
Akela
676
1,087
102
Akela
Westbound only
Las Cruces
701
1,128
135
US 70 East (West Picacho Avenue)
East end of US 70 concurrency
710
1,142
----
Rest area
Eastbound only
721
1,160
139

NM 292

(Motel Boulevard)
723
1,163
143
University Avenue
Eastbound only
724
1,165
144
I-25 North – Albuquerque
East terminus in game
Business Routes
[
]

Cities
[
]
Interstate 10 has a business route in San Simon.
Arizona
[
]
San Simon
[
]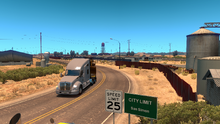 State Business Route 10 (6) is a business loop in San Simon. The route follows Sixth Street beginning at Exit 378 of I-10 west of town and ending at Exit 382 of I-10 east of town.
Major intersections and facilities
[
]
History
[
]
In update 1.5, which changed the map scale from 1:35 to 1:20, Interstate 10 was extended to a new trumpet interchange with Interstate 5, and the previous terminus was changed to a diamond interchange. On the rest of the route, new sections, including the rest areas and inaccessible exits between SR 111 and Phoenix, were added to the existing route to accommodate the new map scale. The trumpet interchange with Interstate 15 and the diamond interchange with US 95 in Blythe Ehrenberg were rebuilt. The at-grade three-way junction with SR 74 was changed to a diamond interchange, while the at-grade three-way junction with an unnamed road to Interstate 40 was removed. The junction with Interstate 17 was moved from a four-level stack interchange with US 60 in eastern Phoenix to a four-level stack interchange with SR 85 in central Phoenix.
Trivia
[
]
"El Paso" can be seen on some road signs on I-10 near Texas, so we can assume that this city will be included in the yet-to-be-released Texas DLC.
See also
[
]