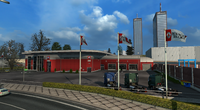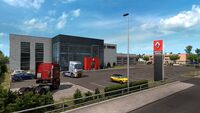 Truck Dealers (also known as dealerships) are facilities in Euro Truck Simulator 2, where the player can purchase new trucks. They don't show on the game map until the player discovers them by driving past them, after which they will appear with this icon:

. Afterwards, the manufacturer the dealership belongs to will be visible in the 'Truck Dealer' menu.
Each dealership has two facility sizes: larger ones and smaller ones, but they act in the same way as the player can purchase and customize the truck they want to drive. Both types are open from Monday to Saturday from 8 a.m. to 6 p.m. The only difference (besides the size of the area) is that larger dealerships also feature rest stops (

) and service shops (

) open 24/7 for the player to repair and upgrade their truck. At the moment, there are 114 dealerships in Euro Truck Simulator 2, 53 being Large Dealerships and 61 being Small Dealerships.
Upon purchasing five trucks, the ability to purchase trucks online (from the main menu) is unlocked.
Dealerships Locations
[
]
See also
[
]
Trucks
Euro Truck Simulator
(Overview, Dealers)
Majestic Actros - Runner Magnum - Swift R - Valiant FH16
Euro Truck Simulator 2
(Overview, Dealers)
DAF: XF 105, XF Euro 6, XG - Iveco: Stralis, Stralis Hi-Way - MAN: TGX, TGX Euro 6 - Mercedes-Benz: Actros, New Actros - Renault: Magnum, Premium, T - Scania: R 2009, Streamline, R, S - Volvo: FH16 2009, FH16 2012
American Truck Simulator
(Overview, Dealers)
Freightliner Trucks: Cascadia - International Trucks: LoneStar, LT - Kenworth: T680, W900 - Mack Trucks: Anthem - Peterbilt: 389, 579 - Volvo: VNL - Western Star Trucks: 49X