Euro Truck Simulator 2: Scandinavia is a map expansion DLC for Euro Truck Simulator 2. It is the second map of DLC involving map expansions. It was released on May 6, 2015.
The DLC adds 3 new countries of Denmark, Norway and Sweden. The expansion also features new ferry terminals too, with ferry connections to Germany, Poland and the United Kingdom.
Release History
[
]
4 June 2014: Blog post with teaser images of the Scandinavian expansion.[1]
10 October 2014: Blog post comparing in-game and real-life landscapes.[4]
21 November 2014: Blog post about Scandinavian road signs.[5]
29 December 2014: Blog post about a new Light and Weather system.[7]
2 February 2015: Blog post about a map of the DLC and Scandinavian bridges.[8]
18 March 2015: Blog post about cargoes in Scandinavia.[12]
4 April 2015: SCS announced the release date of the expansion and roads in Norway in a blog post.[13]
30 April 2015: Scandinavia DLC trailer released.[14]
6 May 2015: Scandinavia DLC is released.[15]
Cities
[
]
The Scandinavia DLC brings 26 new cities to Euro Truck Simulator 2. One more city, Kapellskär, was added in the 1.33 update. The capitals of the countries are marked in bold.
Industries
[
]
There are 25 companies known to be included in the Scandinavia DLC:
Achievements
[
]
Main article: Euro Truck Simulator 2 Achievements
On Steam there are 8 achievements requiring this DLC.
Trivia
[
]
Daylight Usage Mandatory was introduced with the Scandinavia DLC, and means that if a country has this law in play, the player must turn on headlights to low-beam, otherwise getting booked.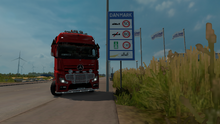 References
[
]
See also
[
]