Euro Truck Simulator 2: Italia is a map expansion DLC for Euro Truck Simulator 2. It is the fourth map of DLC involving map expansions. It was released on December 5, 2017.
As its title suggests, Italia (mainly) features Italy, which was only partially rendered in the original ETS 2 game map. This DLC is a map expansion which covers the rest of Italy, including 22 cities (19 at release).
Release History
[
]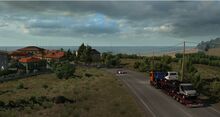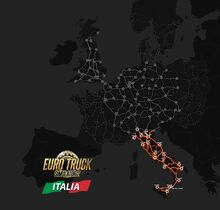 SCS Software first hinted about the DLC in a mysterious teaser video posted on 4 August 2017. After that, SCS released information about the DLC in their blog:
After the release of the DLC, SCS added new content exclusive to Italia owners on one occasion. All of them bring no extra charges.
5 June 2019: On the update 1.35, Sardinia is added to the game map for Italia DLC owners.[15] This update was first publicized on 20 December 2018, through a teaser image posted by SCS Community Manager Carthoo on the SCS forum.[16] SCS posted a blog on 18 April 2019, officially announcing the addition.[17]
Cities
[
]
The DLC includes 22 new cities (19 cities in original release and 3 cities in the update 1.35) in Italy:
SCS reworked the whole Italy map in the core game with new road textures and new signs. Milano is even completely rebuilt from scratch.
Industries
[
]
The DLC also features a total of 26 new industries with some having large and very detailed depots/plants:
There are also some of the already existing companies in the DLC. It is known that IKA Bohag and Vitas Power were featured.
Achievements
[
]
Main article: Euro Truck Simulator 2 Achievements
6 new Steam achievements for Italia DLC have been added on October 16, 2017 and one more new achievement has been added on April 30, 2019.[7]
| Icon | Name | Description |
| --- | --- | --- |
| | Imperator | Discover all Italian cities |
| | True Sicilian | Own a garage in every Sicilian city |
| | Captain | Deliver cargo to all Italian shipyards |
| | Mind the Lava | Visit Etna and Vesuvius volcanoes |
| | Many Roads Lead to Rome | Enter Rome from all corridors that lead to it |
| | Michelangelo | Complete a delivery from Carrara quarry |
| | All Around the Blue Island | Discover all Sardinian cities |
Gallery
[
]
Videos
[
]
SCS Blog
[
]
Screenshots of the new areas of the Italia DLC
[
]
Screenshots of the rework of the core map
[
]
References
[
]
See also
[
]