Euro Truck Simulator 2: Italia is a map DLC for Euro Truck Simulator 2. It is the fourth of DLC involving map expansions, with the first three being Going East, Scandinavia and Vive la France ! respectively. It was released on December 5, 2017.
Release History
Edit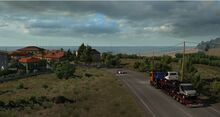 SCS Software first hinted about the DLC in a mysterious teaser video posted on 4 August 2017. After that, SCS released information about the DLC in their blog:
4 August 2017: A mysterious teaser video is posted on SCS's YouTube channel and in their blog.[1]
11 August 2017: First dedicated blog post about the DLC with some information and images[2] and added to Steam Store.[3]
8 September 2017: Blog post with information about the architecture + a few new screenshots of the DLC.[4]
22 September 2017: Blog post about Italian landmarks and road network + a few new screenshots.[5]
6 October 2017: Blog post showing Italian special industries with a few new screenshots.[6]
16 October 2017: Steam achievements added.[7]
25 October 2017: Blog post about rework of the core map.[8]
16 November 2017: 1.30 Open Beta started (rework of core map Italy).[9]
24 November 2017: Italia DLC Promo Trailer.[11]
29 November 2017: Release date announced.[12]
1 December 2017: 1.30 released (rework of core map Italy).[13]
5 December 2017: Italia DLC is released.[14]
20 December 2018: SCS employee Carthoo posts a teaser image on the SCS forum, showing Sardinia.
The DLC features a total of 19 cities and 3 more cities will be added in the update 1.35:
SCS reworked the whole Italy map in the core game with new road textures and new signs. Milano is even completely rebuilt from scratch.
Industries
Edit
The DLC also features a total of 25 new industries with some having large and very detailed depots/plants:
Achievements
Edit
Main article: Euro Truck Simulator 2 Achievements
6 new Steam achievements for Italia DLC have been added on October 16, 2017 and one more new achievements have been added on April 30, 2019.[7]
| Icon | Name | Description |
| --- | --- | --- |
| | Imperator | Discover all Italian cities |
| | True Sicilian | Own a garage in every Sicilian city |
| | Captain | Deliver cargo to all Italian shipyards |
| | Mind the Lava | Visit Etna and Vesuvius volcanoes |
| | Many Roads Lead to Rome | Enter Rome from all corridors that lead to it |
| | Michelangelo | Complete a delivery from Carrara quarry |
| | All Around the Blue Island | Discover all Sardinian cities |
SCS Blog
Edit
Screenshots of the new areas of the Italia DLC
Edit
Screenshots of the rework of the core map
Edit
References
Edit
↑ SCS Software, Unknown video footage, 2017-08-04 (accessed 2017-08-11)
↑ 2.0 2.1 2.2 2.3 SCS Software, Bella Italia, 2017-08-11 (accessed 2017-08-11)
↑ 3.0 3.1 3.2 3.3 Euro Truck Simulator 2: Italia in Steam Store (accessed 2017-08-12)
↑ 4.0 4.1 SCS Software, Italia: Architecture, 2017-09-08 (accessed 2017-09-22)
↑ 5.0 5.1 5.2 5.3 SCS Software, Italia: Ring Roads, 2017-09-22 (accessed 2017-09-22)
↑ 6.0 6.1 6.2 SCS Software, Italia: New Industries, 2017-10-06 (accessed 2017-10-06)
↑ 7.0 7.1 7.2 SteamDB, Euro Truck Simulator 2 Achievements (accessed 2017-10-16)
↑ SCS Software, Italia: Core map enhancements, 2017-10-25 (accessed 2017-10-25)
↑ 9.00 9.01 9.02 9.03 9.04 9.05 9.06 9.07 9.08 9.09 9.10 9.11 9.12 9.13 9.14 9.15 9.16 SCS Software, Euro Truck Simulator 2 Update 1.30 Open Beta, 2017-11-16 (accessed 2017-11-17)
↑ 10.0 10.1 10.2 SCS Software, Sicily, 2017-11-20 (accessed 2017-11-20)
↑ 11.0 11.1 SCS Software, Italia DLC Promo Trailer, 2017-11-24 (accessed 2017-11-24)
↑ SCS Software, ETS 2: Italia coming next week!, 2017-11-29 (accessed 2017-11-29)
↑ SCS Software, Euro Truck Simulator 2 Update 1.30, 2017-12-01 (accessed 2017-12-01)
↑ SCS Software, Benvenuto in Italia!, 2017-12-05 (accessed 2017-12-05)
↑ 17.0 17.1 Video by Oscar Lee, 2017-12-01 (accessed 2017-12-03)
↑ Video from Blue Dragon, 2017-12-01 (accessed 2017-12-02)
See also
Edit