Double-trailer Logistics is a World of Trucks event held from October to December 2017, featuring American Truck Simulator (ATS). The event is announced by SCS on 13 October 2017, and would last until 3 December 2017.
Truckers must haul at least 300,000 lb of cargo loaded in double trailers.
Truckers must use American Truck Simulator (i.e. hauling doubles in Scandinavia do not count)
Every delivery must be to a different city. Deliveries to previously-served cities do not count.
The trip must be longer than 100 miles as planned, i.e. deliveries within 100 miles do not count, even if the trucker drives for longer for whatever reasons.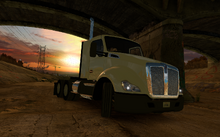 A new main-menu scene for the trucker's ATS.
General Guide from Contributors of this Wikia
Edit
Plan trips before starting.
Research the weight of different double trailers and pick the heaviest ones with distance of over 100 miles, in order to minimize the number of trips required.
Log trips to avoid repeated deliveries to the same city.
External Links
Edit
Community content is available under
CC-BY-SA
unless otherwise noted.