The Autoroute A3 of France is a highway inside Paris. It's featured in Euro Truck Simulator 2 since version 1.26, as part of the Paris area rework prior to the release of Vive la France! DLC.
True to its real-life counterpart, the road serves as the connection between the city-center (Boulevard Périphérique near Porte de Bagnolet) and the suburb of Gonesse. At the latter end, the
takes over and continues to the north under Charles de Gaulle Airport, while Autoroute
passes underneath, becomes a secondary road and runs into Gonesse.
Route Details
Edit
Autoroute A3
↓km↓
↑km↑
Feature
Destinations / Notes
0
3
Western terminus

Boulevard Périphérique - , Reims

3
0


Eastern terminus
continues north
Because of the map scale, the A3 only spans 3 km, with just one tunnel rendered in-game. In contrast, the real-life road is 5 times longer and has 6 intermediate junctions.
On the game map, the icon of A3 also appears on the Boulevard Périphérique. Previosly, an icon of appeared on the section of road supposed to be A3, but that part of the map has been corrected as of February 2019.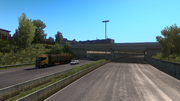 See Also
Edit
Community content is available under
CC-BY-SA
unless otherwise noted.