The Bundesautobahn A11

in Germany is a relatively short highway running northeast of Berlin, the country's capital to the Polish border near Szczecin. It is featured in Euro Truck Simulator 2 and has been completely reworked in update 1.32.
After crossing the German-Polish border but before reaching Szczecin, a section of highway stretches for a few kilometres. In real-life it is the Polish Autostrada A6, but in ETS 2 neither its number nor sign appears. In the game there is a gas station along this section.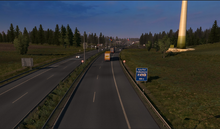 Community content is available under
CC-BY-SA
unless otherwise noted.